Circulars
Crew Management System Training Manual
Table of Content For Circulars
1.         Introduction. 1
2.         Make Edit Circulars. 2
2.1.     Circular Type. 3
3.         Read Circulars. 3
3.1.     Crew Activity options. 3
3.2.     Crew Reads Circulars. 4
4.         Hindi Circulars. 6
5.         Frequently Asked Questions. 6
5.1.     Can I read the circulars already read?. 6
5.2.     Are Guard and driver circulars separate?. 7
5.3.     If the crew is not at is HQ but outside his HQ can he still read the circulars. 7
Circulars are the document for giving various type of information to the Crew primarily aimed at improving the train operation efficiency, safety etc. Crew has to essentially read circulars issued by the controlling authorities at the earliest. The information regarding the circulars is entered by Divisional console.
Make /Edit Circulars –    The circulars are made specific to the each category / Type.
Select Circular Type –    Crew selects the type of circular he has to read.
Read Circular -               Crew reads the circular pending against him.
Monitor Status -             Inspector is displayed list of circulars read by his monitoring Crew.
2.
Make Edit Circulars
The Dy Controller/Crew Controller shall enter circulars. All fields are mandatory and can be fed in English or Hindi. Select Circulars' option from Division Console.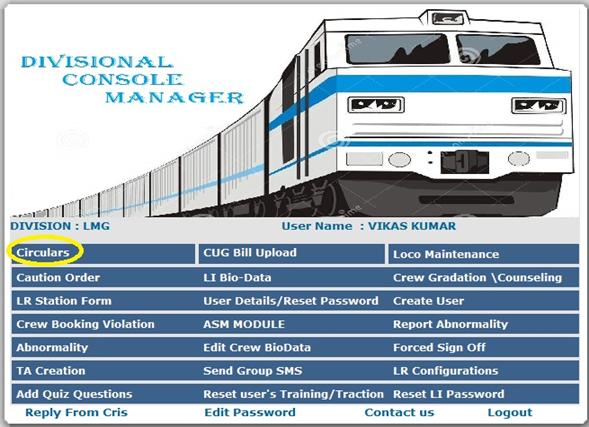 At below screen enter/select following details to create circular:-
a) Crew Type (Loco/Guard/Both)
b) Circular Type (Safety/Electrical/Mechanical/Others)
c) Traction Type (Electrical/Diesel/Both/Others)
d) Lobbies ( Only selected lobbies will able to see the circular)
e) Subject
f) Reference
g) Issued Date
h) Issuing Authority.
i) Activation Date
j) Expired Date
k) Matter (Either PDF of TEXT)
l) Circular ID shall be self generated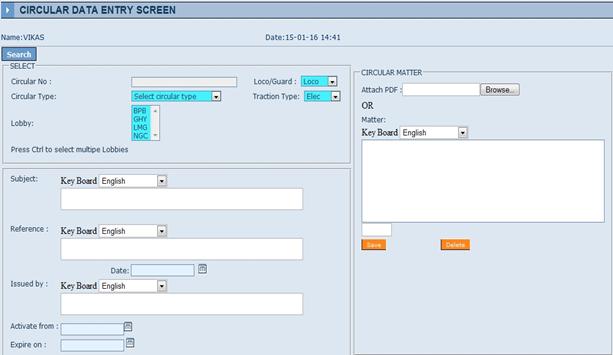 On circular Screen Crew has to select one from the following Circular Type:
a) Safety
b) Technical (Electrical)
c) Technical(Mechanical)
d) Others( All Other Types Excluding above three)
After Selection of Circular Type, all the Circulars of selected type will be in the Circular List.
In case if crew is having any pending circular at the time of Sign On/Off crew is directly routed to circular display screen and sign on is not permitted even if a single unread circular is pending.
Also if crew wants to read circular any time crew has to Login and select circulars options from crew console screen when circulars shall be displayed for the crew. Crew identification shall be done by means of thumb impression reader or by entering crew ID and password.
After the crew identification activity a screen with the following option will appear
a) Sign On / Sign Off.
b) Circulars.
c) Quick.
d) Abnormality.
e) Personal
f) Change Password
g) Attended Abnormality
The crew has to select the circulars to read the circulars.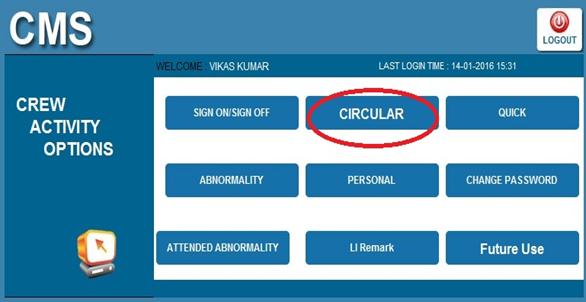 Crew is displayed a summary of circulars each circular type wise which are displayed below he buttons as follows.
a) Safety (7) unread messages.
b) Technical (Electrical) (14) unread messages.
c) Technical (Mechanical) (3) unread messages.
d) Others (All Other Types Excluding above three) (6) unread messages.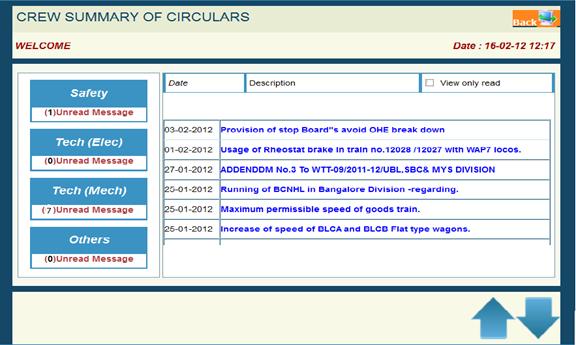 On selection of a type of circular,  crew gets the summary list of circulars not read by him, displayed in descending order  (oldest date on the top). This list shall have:-
a) Date of issue
b) Subject of the circular
The crew shall select one of the circulars by clicking on any one of them to go to the circular details. The crew clicks the read circular option after reading the circular. Once the crew clicks the read circular option button, read button is disabled for the circular. Such circulars are marked as read by the crew and not displayed again unless crew check the view only read tab provided above on Crew summary of circular screen. .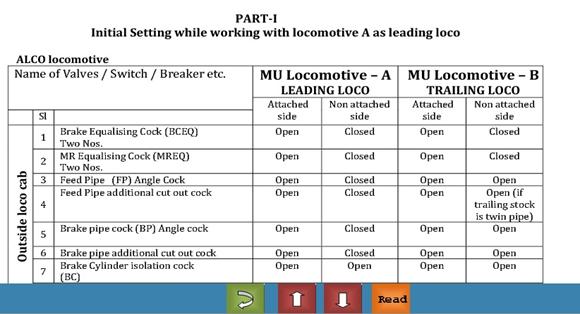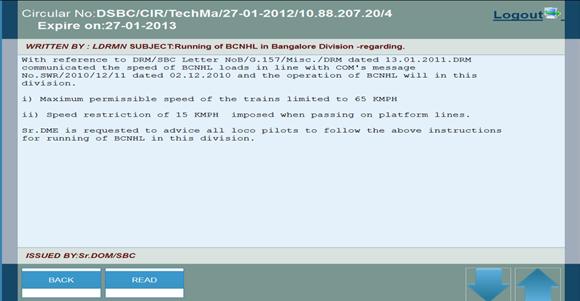 The CMS software provides flexibility to type Hindi by either typing directly through the Hindi key board. User can select from any of the following keyboards
Hindi phonetic
Remington Hindi
In script Hindi
English keyboard

User can configure the circulars to be available for guards only/drivers only/both. While loading such circulars it is necessary that:-
1. User has to use HINDI soft keyboard provided for making the Hindi circulars.
2. In case you want that the circulars can be copied from windows, then they should be made in UNICODE-8 format only. They should be copied on a notepad, saved and then transferred into the CMS system.
3. Straight copied Hindi circular from windows, with no Unicode format, will generate garbage characters.
Yes the circulars already read can be re read by clicking the view only read button provided on top right side of the screen and pressing the button of the particular category.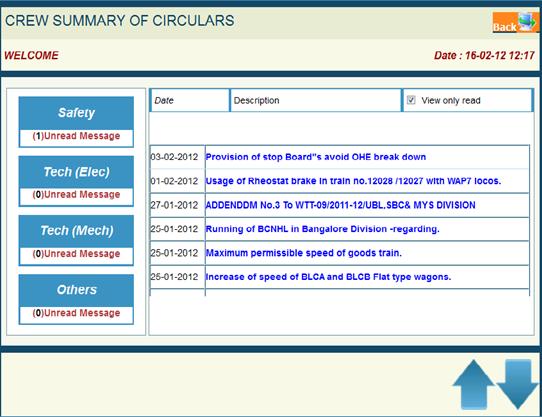 Guard and driver circulars are separate. Guard can make circular in 2 categories i.e. Safety, Others while Driver makes circular in 4 category as in the screen shot as above.
Yes. Due to central networking the crew when logging in at a location outside his lobby then he is offered the circulars of his lobby. He has got the options to read the circulars at the time of sign ON as well as at the time of sign OFF.